2012 OBRA Hill Climb Championships
August 19, 2012
Climb from Government Camp to Timberline Lodge on a beautiful maintenance road: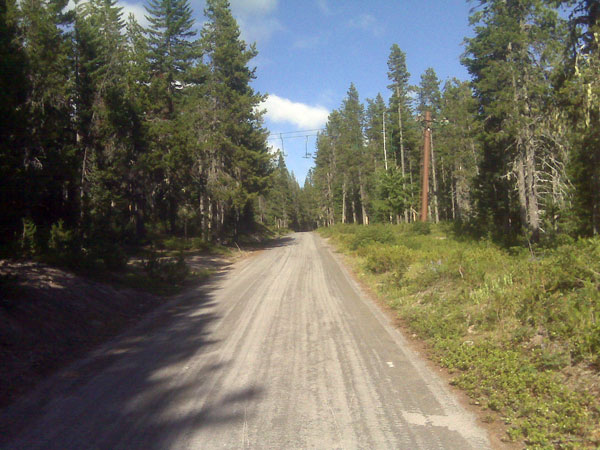 The Route: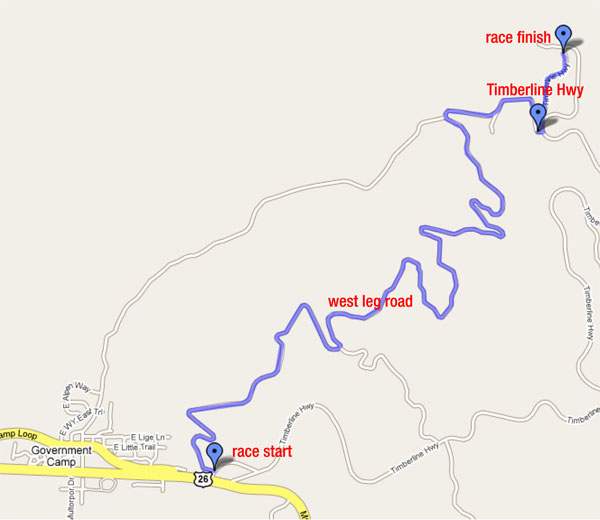 mapmyride route shown below
When:
August 19, 2012
Pre-race check-in from 8:30 to 9:30AM (if needed), first rider off at 10:00AM.
Final start list will be released online
Where:
Mt. Hood; Government Camp, Oregon
Start located at Government Camp Rest Area. Take Highway 26 out of Portland. Allow 60 minutes driving time.
Distance: 5.6 miles
Elevation Gain: Approximately 2000 feet
Registration:
You can also mail a standard OBRA race release (check written to Beaverton Bicycle Club) to:
Hillclimb
15325 NW Central Dr.
Suite #305
Portland, OR 97229
OBRA Championship Event:
Medals are awarded to OBRA Champions. This is an OBRA championship event. Only full season OBRA members are eligible for medals. You may compete with a one-day license, but you will not be eligible for medals.
Categories:
Tandem
Junior Men 10-12, 13-14, 15-16, 17-18
Junior Women 10-12, 13-14, 15-16, 17-18
Senior Men, Category 3, Category 4/5
Senior Women, Category 3, Category 4/5
Masters Men 30-34, 35-39, 40-44, 45-49, 50-54, 55-59, 60 plus
Masters Women 30-34, 35-39, 40-44, 45-49, 50-54, 55-59, 60 plus
More Info:
Starts--Beginning at 10:00AM, Riders will start at 1 minute intervals. Riders should be at the start area at least five minutes before scheduled start time (see www.bbcbike.com for start list). Riders will not be held or pushed and must be stopped with one foot on the ground when starting.
Course--The Timberline Hill Climb Time Trial climbs steadily through a wooded area of alpine fir on a narrow twisting road. The surface is somewhat rough due to old pavement. The last half-mile or so is quite steep and riders should expect some spectator congestion near the finish area. Riders should also expect some gravel on the descending left turn where the West Leg road joins the main Timberline road. Every effort will be made to sweep the area.
Rules & Instructions:

Numbers must be located on left side. Do not fold or cut number.
No warm up on the course after 9:30 a.m.
Descending riders must use main Timberline Road
No support permitted. No feeding. No vehicles on course. No restarts.

Going back down--Descents down Timberline road are not part of this race course, nor closed to traffic. Please don't block traffic on your decent back down the hill, and please excercise extreme caution going down hill!
Be prepared! Mt. Hood most likely at a higher altitude than your home. Be prepared for colder weather than you'd expect, and plan your clothing choices accordingly. Riders should bring their own gear (backpack, food, clothing, etc) for the trip back down the hill. You can check in a bag before 9:00am and it will be transported up the hill for you...Your gear will be waiting at the top when you arrive.
For Bicycle Racing's Future: You are an ambassador of our sport, please act accordingly. Riders who blatantly disregard OBRA rules and conduct will be sanctioned as deemed appropriate by the race organizer and chief official.
Requirements: This is an OBRA sanctioned event. Helmets must be worn at all times. This is a rural community inviting us to race. Please exercise common sense, etiquette, and rules of the road. Permits are for racing up the mountain only. Your return trip MUST follow the rules of the road. Please contact the race organizer about any questions.
Course Records
Unofficial best time: Doug Smith (Wheaties Schwinn), 23:24
Best OBRA Recorded times:
Men: Billy Truelove and Alex Newport-Berra, 25:11 (both tied for the record)
Women: Jenny Slawta, 29:22
Questions?
Contact Erik Voldengen at erikv@erikv.com, or 503-819-4985.